Memorandum on Cooperation between the LCTA and the Astana International Financial Centre Authority (AIFC – Kazakhstan)

The Astana International Financial Centre Authority (AIFC – Kazakhstan) and the Lugano Commodity Trading Association (LCTA – Switzerland) signed a Memorandum with an intent to build a cooperation aimed at fostering the flourishing relationship and developing the mutually fruitful cooperation in the financial sector with particular attention on commodity trade finance.
Mr. Kairat Kelimbetov, Governor of the AIFC, and Mr. Marco Passalia, General Secretary of LCTA, signed the Memorandum after a personal discussion. At the meeting was present also the Swiss Ambassador in Kazakhstan, Urs Schmid, and underlined the importance of this historical agreement.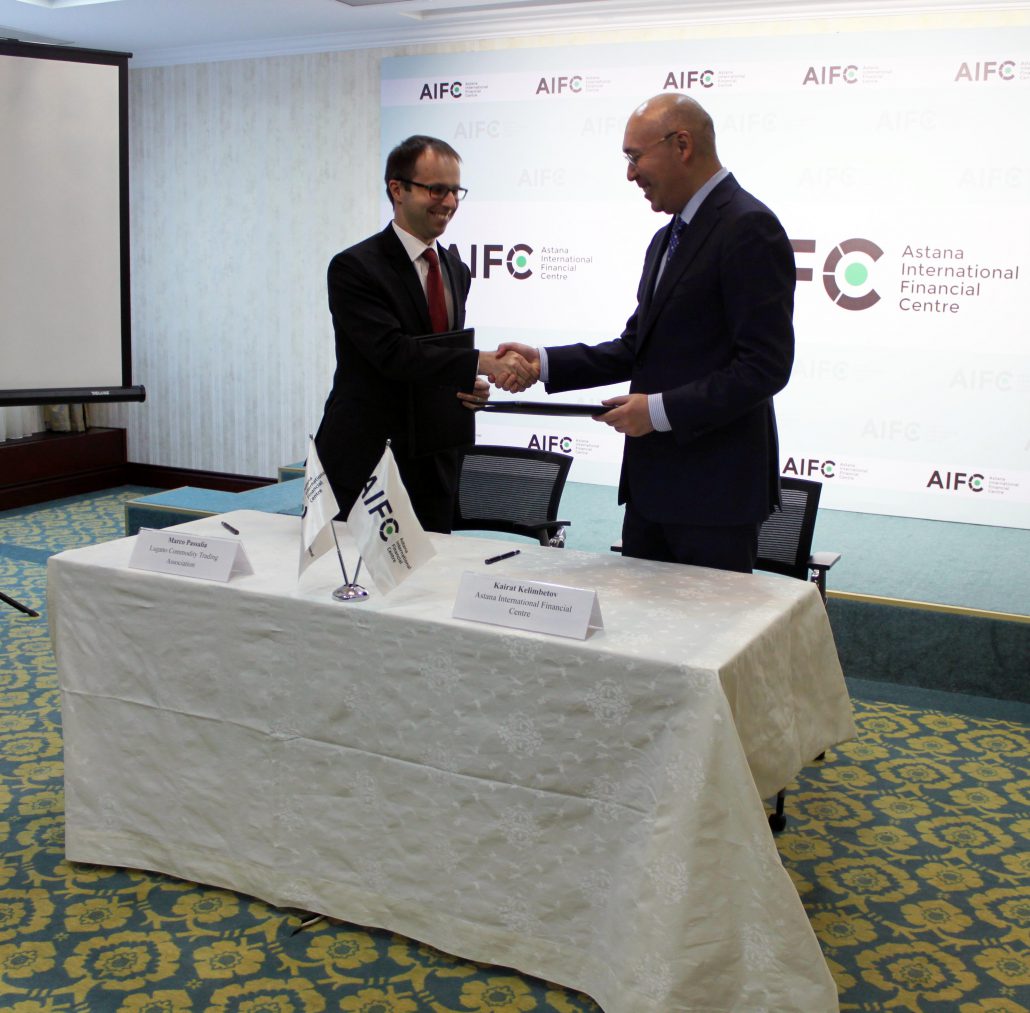 By the Decree of the President of Kazakhstan, dated 19 May 2015, a new financial centre, called the Astana International Financial Centre (AIFC), was created in Kazakhstan's capital, Astana, with an ambitious goal to become one of the top 10 financial centers in Asia, and one of the top 30 in the world by 2020. The AIFC began operating from 1 January 2016. In order to effectively utilise the premises being constructed for the EXPO-2017 Exhibition, the AIFC will be located within the territory of the EXPO, from 1 January 2018.
Established in 2010, Lugano Commodity Trading Association (LCTA) is a non-profit organization based in Lugano. With this association, the commodity trading companies intend to reinforce Canton Ticino's favourable business conditions and to pursue common goals, such as fostering personnel training, broadening domain knowledge, creating new international contacts and relations, exchanging opinions and views. Furthermore, LCTA aims at developing a platform composed of commodity trading firms, shipping companies, banks active in co8mmodity financing as well as all consultants and certification companies active in this business branch.
The cooperation between AIFC and LCTA will go ahead in the next months with the promotion of exchange of information and expertise in the support for the organization of training programs or networking events. At the same time, AIFC and LCTA deem appropriate to embark on an exchange of official delegations and experts in various fields of economic activities for the sake of an active support of official dialogues between the two business communities.
https://www.lcta.ch/site/wp-content/uploads/2017/04/Passalia_Kelimbetov.jpg
3168
3222
lcta_webmaster
https://www.lcta.ch/site/wp-content/uploads/2020/04/LCTA-Logo-10y-r02-01.png
lcta_webmaster
2017-04-05 12:00:00
2020-12-03 15:10:15
Memorandum on Cooperation between the LCTA and the Astana International Financial Centre Authority (AIFC – Kazakhstan)