Incontri e scambi proficui in Iran per la LCTA

Dal 29 aprile al 3 maggio 2017 una numerosa delegazione ticinese (25 persone) ha partecipato alla prima missione in Iran organizzata dalla Camera di commercio, dell'industria, dell'artigianato e dei servizi del Cantone Ticino (Cc-Ti) e dalla Lugano Commodity Trading Association (LCTA), in stretta collaborazione con Switzerland Global Enterprise (S-GE).
Ad accompagnare i rappresentanti delle aziende, Michele Rossi e Marco Passalia per la Cc-Ti/LCTA e Monica Zurfluhper S-GE che hanno coordinato il programma e assistito le aziende ticinesi nei vari colloqui avuti in loco con interlocutori iraniani. I partecipanti, rappresentanti di diversi settori (bancario, fiduciario, commodity trading, energia, automotive, costruzioni,…), hanno infatti seguito un intenso programma, il cui scopo era quello, da un lato, di offrire alle aziende una panoramica conoscitiva del mercato iraniano tramite dei seminari e degli incontri istituzionali, e, al medesimo tempo, di fornire dei contatti concreti con potenziali partner tramite l'organizzazione di incontri B2B.
Oltre ai contatti con le aziende locali, la delegazione ticinese ha incontrato il Chargé d'affaires a.i. dell'Ambasciata Svizzera, Stéphane Rey, che ha fornito un briefing estremamente dettagliato sulla situazione attuale in Iran. Inoltre Marco Passalia, Vicedirettore della Cc-Ti, ha avuto modo di discutere direttamente con Pedram Soltani, Vicepresidente della Camera di commercio iraniana (Iran Chamber of Commerce, Industries, Mines and Agriculture), sottolineando l'importanza del progresso delle relazioni economiche tra Svizzera e Iran e individuando alcuni settori in cui vi è un grande potenziale per lo sviluppo di sinergie, soprattutto nel settore della farmaceutica e delle cosiddette "life sciences", nel commercio di materie prime e nella moda.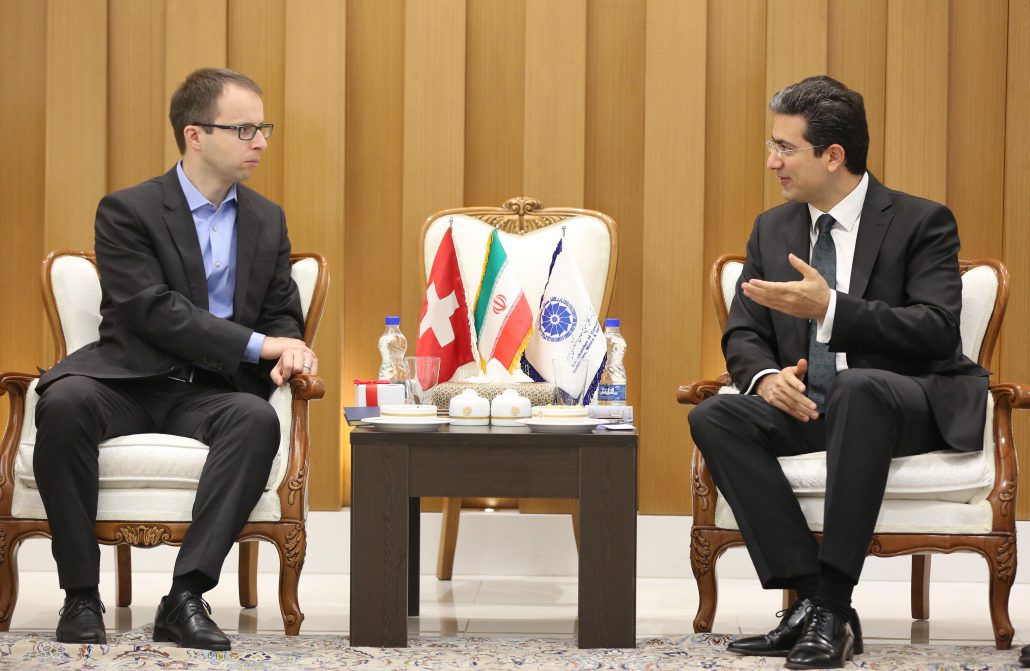 I partecipanti hanno avuto modo, inoltre, di prendere parte alla conferenza organizzata dalla Cc-Ti e dalla LCTA, in stretta collaborazione con la Camera di commercio Iran-Svizzera, intitolata "Key business sectors in Switzerland". Davanti ad un selezionato pubblico di potenziali partner sono stati presentati i principali settori dell'economia ticinese tramite quattro panel ("Swiss Energy Technologies" / "Swiss Life Sciences" / "Swiss Technologies in the automotive sector" e "Swiss commodity trading") in cui sono intervenute alcune aziende della delegazione, vere punte di diamante della nostra economia. Si è trattato quindi di un momento chiave del programma in cui le imprese svizzere hanno avuto un'ulteriore occasione di farsi conoscere e di allargare la propria rete di contatti locali.
Gli incontri e gli scambi avuti durante questa visita sono stati molto proficui e il grande numero di partecipanti alla missione va a dimostrare il notevole interesse per l'Iran, Paese che attualmente attira indubbiamente molto. Il successo della missione conferma la pertinenza del lavoro della Cc-Ti e della LCTA sul mercato iraniano. I prossimi passi dipendono ovviamente dagli sviluppi politici in Iran e a livello internazionale, che la Cc-Ti sta monitorando attivamente.
Cc-Ti e LCTA continueranno anche in futuro a creare queste ottime occasioni per conoscere e sviluppare contatti con mercati esteri. Attualmente ricordiamo che i Paesi prioritari per le nostre attività sono: Russia e paesi CSI (Ucraina, Kazakistan) e Iran.
https://www.lcta.ch/site/wp-content/uploads/2017/05/FX1A9237.jpg
3555
5455
lcta_webmaster
https://www.lcta.ch/site/wp-content/uploads/2020/04/LCTA-Logo-10y-r02-01.png
lcta_webmaster
2017-05-08 12:00:06
2017-05-08 12:00:06
Incontri e scambi proficui in Iran per la LCTA