Andrea Organista / Armator Shipping
Andrea Organista
Chartering Manager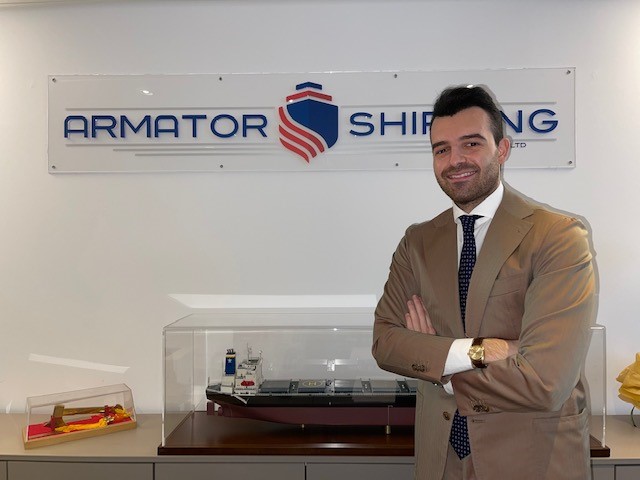 What is the core activity of your company? Does your company focus on particular geographic markets?
The main activity of our company is to manage (commercially and technically) and operate vessel and cargoes into the dry bulk sector. We mainly focus our attention on the handysize market up to the Ultramax one. We do manage technically more then 30 ships and have at the moment a super eco Japan built Ultramax on charter for long period.       
In your view, what is the actual trend of your sector?
During 2020 we have been affected relatively by the covid-19, solely in Q2 2020, where the time charter rates into the dry bulk market reached very low levels. From that moment onwards we noticed a constant increase on the freight market and on daily hire rates likewise.
The gauge of activity in the dry bulk spectrum is roaring during the first four trading weeks of 2021, balancing at unusual for this time of year heights. In particular, the main trends for the fall/winter 2020-2021 look very promising. Averaging between 43.2% and 31.1% above the corresponding periods of 2019-2020 and 2018-2019 respectively, Baltic Dry Index seems to have left behind the exogenous shocks of Covid-19 initial jolt in early 2020. Additionally, exceptionally cold weather sweeping through China has materially increased power demand, having a positive bearing to Baltic indices as well.
How do you judge the perspectives of your activity's market?
After an estimated sharp contraction of 3.5 per cent in 2020, global economy is projected to grow a solid 5.5 per cent in 2021 and 4.2 per cent in 2022, according to the latest update of IMF world economic outlook. Indicative of the global economy course reversal is the fact that the Fund has revised its 2020 estimate 0.9 percentage points higher than projected in the October WEO forecast. The fundamentals of the sector are trending the dry bulk in a positive way for the 2021 year, since the order book has never been so low during the last decade and the booming outlook for the world economies is promising.
For your company, what are the benefits of working in Lugano (Switzerland)?
Being part of a solid and established trading community is a key point for our company and Lugano under this aspect is offering interesting opportunity. This city and in particular its eco-system can absolutely advantage companies that works and operate in our fields.
Lugano is the 3rd most important city when it comes to business in Switzerland and has always been very attractive for investors. Lastly, on a personal note, for someone like us that have always been related to the sea, as we come from Naples, to still be connected to this element  through the lake is definitely a plus.
Your opinion in one sentence to describe LCTA's activity
LCTA's activity can help different backgrounds to match for business opportunities and can boost the networking process into the trading/shipping and finance fields.          
https://www.lcta.ch/site/wp-content/uploads/2021/02/ARMATOR-FOTO.jpg
480
640
LCTA Editor
https://www.lcta.ch/site/wp-content/uploads/2020/04/LCTA-Logo-10y-r02-01.png
LCTA Editor
2021-02-08 10:35:36
2021-02-08 10:35:36
Andrea Organista / Armator Shipping